DeviceLab releases a new website and 21-product portfolio spanning 10-years of experience in the medical product development field. The online portfolio includes medical carts, lab instruments and disposable medical devices.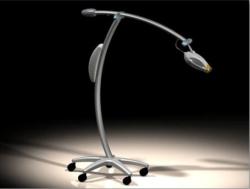 DeviceLab's online
portfolio
enables site visitors to scroll through a wide array of product development projects and quickly find a topic of interest
Orange County, CA (Vocus/PRWEB) December 07, 2010
DeviceLab recently launched a new website and online portfolio. The streamlined, user-friendly website is representative of the firm's product design style. The portfolio spans a full decade of medical product development experience.
The main feature of the site is its online product portfolio. The company has developed over 100 products, 21 of which are featured in the portfolio. An online app enables visitors to quickly scroll through thumbnails and project summaries, select one, then view images and details for the specific project of interest.
As indicated in the portfolio, DeviceLab is unique among industrial design firms due to its focus on medical products. The online portfolio includes point-of-care medical carts, table-top laboratory instruments, surgical equipment and hand-held medical devices. The website and portfolio also address the company's broad skill set which includes industrial design and ergonomics, mechanical and electrical engineering, software development, FDA regulatory affairs, prototyping and manufacturing. The new site was developed by Adapt360.
"The new website and product portfolio exemplify our company," said Don Kloos, VP of Business Development for DeviceLab. "Like our product designs, the site is efficient and ergonomic. DeviceLab's online portfolio enables site visitors to scroll through a wide array of product development projects and quickly find a topic of interest."
About DeviceLab
DeviceLab is a full-service, consumer and medical product development company in Orange County, Southern California. Established in 1998, the company has completed over 100 projects including 19 medical carts, 22 table-top instruments, 20 hand-held devices and 9 single-use, disposable medical devices. Disciplines include mechanical engineering, electronics, software, industrial design, ergonomics/human factors, prototyping, testing, regulatory affairs, patent/intellectual property and production ramp-up (including limited run and contract manufacturing). Clients include fast growing startups as well as Fortune 500 corporations.