DeviceLab, Inc. has expanded its Graphical User Interface (GUI) and LabVIEW Development Teams to address a wide range of medical and diagnostic projects. The group has a 10-year track record developing medical equipment UIs.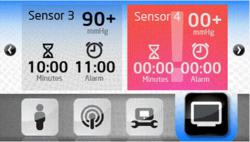 Medical Product User Interface
Medical UI's involve art and science, a blend of ergonomics, engineering, system control, and graphic design.

Orange County, CA (Vocus/PRWEB) February 08, 2011

DeviceLab (https://www.devicelab.com) has been developing medical devices for over 10 years. The company has recently completed multiple UI development projects using LabVIEW, Photoshop and Illustrator. The UI development team is growing quickly, with the addition of new designers and engineers (Seehttps://www.devicelab.com/services/electronics-engineering/).

DeviceLab creates intuitive UI's to give operators a seamless, natural experience when working with the equipment. Designs account for human factors as varied as the operator skill level, height and viewing distance. DeviceLab's product development projects often include complex, electro-mechanical systems with feature-rich control software. DeviceLab applies both art and science to create interfaces that are intuitive, easy to use and flexible.

DeviceLab's medical UI development process involves a close working relationship with the customer. This is illustrated by a UI that DeviceLab is currently developing for a new patient monitoring system. On this project, DeviceLab's Project Manager first studied the customer's requirements. Next, a detailed flow chart was created along with three sample screens designed using Photoshop and Illustrator. This was followed by UI development that addressed all system functions while taking into account human factors and appearance.

DeviceLab's UI development team is growing quickly. The latest addition is Industrial Designer Bob Gibb. Bob brings a mastery of UI experience gained as a GUI designer at PV Powered and other firms. Another DeviceLab leader is Phil Morello, DeviceLab's Director of Electronics and Software Development, with over 30 years experience in the field. Phil leads many of DeviceLab's GUI development projects. Prior to DeviceLab, Phil led the engineering team at Newport Medical that developed the e500 Ventilator and its GUI interface. DeviceLab has developed UI's for a wide range of medical devices. Past projects include surgical tools, diagnostic systems, laboratory equipment and consumer products.

"The UI design side of our business is growing rapidly," said Dac Vu, President of DeviceLab. "Medical UI's involve art and science, a blend of ergonomics, engineering, system control, and graphic design. These are all within DeviceLab's expertise"

About DeviceLab
DeviceLab is a full-service, consumer and medical product development company in Orange County, Southern California. Established in 1998, the company has completed over 100 projects including 19 medical carts, 22 table-top instruments, 20 hand-held devices and 9 single-use, disposable medical devices. Disciplines include mechanical engineering, electronics, software, industrial design, ergonomics/human factors, prototyping, testing, regulatory affairs, patent/intellectual property and production ramp-up (including limited run and contract manufacturing). Clients include fast growing startups as well as Fortune 500 corporations.

press adapt360.com